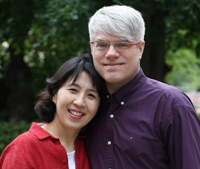 SENIOR PASTOR Scott Brenner
Scott Brenner is the senior pastor of The Lord's Church, a multi-site congregation he and his wife SungHee founded in Korea in 2008, with campuses in Pangyo and Busan. Scott holds degrees from Liberty University and Whittier College School of Law.
Our Journey

In 2006, Scott and SungHee Brenner founded Tribe of Levi Ministries, an evangelistic ministry whose vision and purpose is to raise and train disciples as catalysts for revival and spiritual awakening. Tribe of Levi Ministries hosts several annual conferences in Korea, including AWAKE!, and annual gathering for spiritual awakening and prayer, and Levites, and annual worship conference. Tribe of Levi also hosts a number of annual ministry schools and seminars throughout the year: The Tribe of Levi Worship Leader's School, an eleven week school designed to train and equip worship leaders in Korea; and the Worhsip Songwriting School, a twelve week school for training worship songwriters.
Each Sunday evening at The Lord's Church, Pastor Scott leads LifeLine, a weekly expository Bible Study. Presently Scott is teaching verse by verse through the story of David. As a preacher, author, worshiper and communicator, Scott has a passion to see people everywhere intimately experience the life-changing power of God's transforming love.
Bibliography & Discography
Scott Brenner is the author of three books: Worship Encounter, The Heartbeat of Worship and The Lamb's Revolution. Scott is also a well-known worship leader, songwriter and producer. He previously produced the ten-volume Korean live worship recording series, Tabernacle of David, and currently produces the new praise and worship series, Levites, which presently features three titles: Levites Awakening (2010), Levites Revolution (2012) and Levites I Am Yours (2016).
About Scott and SungHee Brenner
Scott and SungHee Brenner have ministered together internationally in many nations around the world. As a couple, they share a mutual passion to see a global outpouring of God's glory in this generation. Their continual prayer is to see the nations embrace the Lordship of Jesus Christ in every facet of life. As church planters and leaders, they are committed to awakening and equipping Christ's Church to be salt and light to the surrounding culture.
As evangelistic revival ministries, The Lord's Church and Tribe of Levi Ministries are propelled by a global vision of the glory and preeminence of Christ among the nations in Asia and around the world.